Your windows are not just something you look through. They are so much more! Windows can provide protection & privacy, enhance appearances & status and with enough consideration windows could restore your sanity and send you on a vacation!
More specifically they protect your body from harmful UV ray damage but more importantly, your windows can offer you & your loved ones extra safety & security from potential "smash and grab" thieves. The correct windows also can be a huge cost saver cutting bills up to 40% with your heating and cooling, depending on how many windows your home has, that savings could put plane tickets into your pocket!
"Smash and Grab"  Protection
Single pane windows are the target of "smash and grab" thieves that can break into your home. Your current neighbors may not have experienced this but you probably know someone who has. Even the nicest neighborhoods are subject to crime, sometimes the nicer the home the higher the target. Who knows, your online drama or kid's most recent out lash on social media may bring some unwanted people and acts to your doorstep. Not to worry though!   Our double window pane construction offers the most protection and exceeds the 14 California Forced Entry tests! We pride ourselves on giving you the peace of mind of safety & security using our professionally installed windows.
NOISE Control 
Noise levels can be a real "annoyance" and ruin a great many things going on for you. How about that ultimate action or dramatic scene in a movie! Perhaps that perfectly timed quiet thought that could lead you to a breakthrough in your study or relationship struggles. Let's not forget to mention, your highly useful EARS! Jets taking off are rated at (140dB) which is considered immediate physical damage to your ears. We may wish we could tune out that certain person in your life but hopefully not for the rest of your life! Your local vocal dog who feels barking all day & night is really going to get him whatever it is on the other side of the fence may also be a stress factor or thought disruption. In many cities, there is the future speed racer who just loves improving his car with the latest horsepower improvement part or muffler upgrade and enjoys testing how fast it now goes or how loud it sounds on your street!  These all can be avoided using our high-quality windows.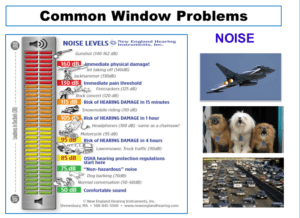 Save enough money to pay for a vacation!
Who doesn't need a vacation? I'm sure you deserve one right now.  Were you aware that 70% of your Energy Spending goes out the windows?? Take a peek below and scope out this Thermo Image of Energy Loss in a home. It was shocking to some to find out how poorly insulated the house was just due to the windows either being improperly installed or losing its seal due to age.  Our professionally installed, high-grade windows prevent the energy loss from your windows & over time can help you recover enough costs to pitch in on that much-needed vacation! Restore some sanity and treat yourself by replacing your windows.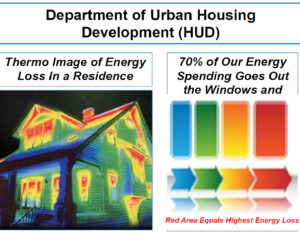 Contact us today and request a phone call! Let us come out and peep your window units and get a quote on a chance at a vacation, hearing protection, safety and perhaps your sanity!