Modern House Window Ideas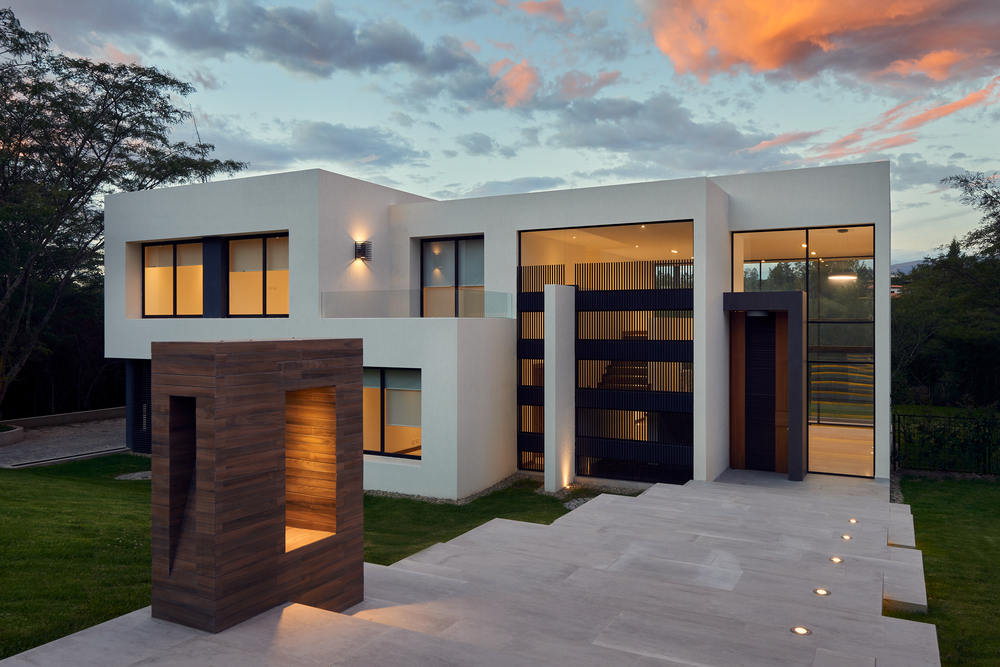 A great window can inspire the look of the entire home. As one of the major design elements that influence the look and feel of both the interior and exterior of the house, modern window design has become an increasingly important and influential element that many homeowners are looking for. This blog will go over modern window ideas you should implement so that your home can achieve that contemporary style you've always wanted!
Dark Frames 
As you might have seen in those home remodeling shows on HDTV, modern home aesthetics usually incorporate dark window frames. They present an up-to-date modern look, but also complement everyday traditional and domestic interiors. Dark window frames create high contrast, which works really well with white or light-colored walls, creating a strong contrast. Whenever one thinks of the word "modern," one usually associates it with simple and bold. This is exactly what dark window frames provide homes with. Whether you're putting your home up for sale or completing a much-needed renovation, adding dark window frames will help modernize your home in an instant!
Black isn't the only color that creates a contemporary look. Other outdoor window frames that can create a modern look include dark colors like:
Architectural bronze
Architectural silver
Classic Gray
Espresso
Taupe
Red Pepper
Rosewood
Desert tan
Divine Wine
Forest Green
Explore all of the different color options there are. Depending on the colors of your home, you may discover that black isn't the only stylish addition!
Casement Windows
Beauty is in the eye of the beholder, but often the style of your window can dictate the aesthetic of your entire home. As we all know, modern homes are what's trending big time, so a modern-style window is a must! Casement windows are one of the most modern-looking windows currently in the market. Their minimalist look and sharp lines are providing homes with that fresh look that is required of contemporary homes. Apart from their aesthetics, these windows also provide homeowners with a handful of other great benefits, such as:
Energy- Efficiency – When closed, these windows provide an airtight seal that prevents conditioned air from leaking and wasting energy.
Superior Ventilation – Even under bad weather conditions, they can be opened to allow for air circulation. They can even be opened in the rain!
Security – Due to its internal gears, casement windows can only open with a crank. This means it's impossible to open the window from the outside, even when unlocked.
Easy Operation – Casement windows are easy to operate with their built-in crank. This makes it great for places that are hard to reach, such as above countertops.
Versatility – There are endless combinations of interior finishes, exterior colors, and hardware to choose from. This makes it easier for you to achieve that modern look you're aiming for.
Where Can I Get Modern Windows?
If you're planning on replacing your windows, going with a modern aesthetic is a great path to take. Due to the popularity of modern window aesthetics, your home's value will increase, and your curb appeal will stand out from the crowd. So now that you know what are the elements needed for a modern window style, who do you go to for a quality installation? Windows are a delicate matter, and if they're not installed properly, you can wave goodbye to your energy savings. It is essential that you get a team of experienced experts to do the job, like Select Home Improvements. We are a family-owned and operated business providing local homeowners with the benefit of over 15 years of combined manufacturing and installation experience! We can make your modern window installation dream a reality! We hope these modern window ideas helped the needed elements for a contemporary window design. If you're ready to transform your home, give us a call at (855) 995-2233 or click here to reach us through our online form!
Select Home Improvements is the best choice is you are looking for a window replacement contractor. If you have questions about your project please contact Select Home Improvements. We are here to assist you.
Call us at (855) 995-2233.