The Anatomy of a Window
Before deciding on what windows to purchase, it would be smart to have an understanding of the anatomy of a window Of course windows vary, but having a basic understanding of its common terms and structure will help you make informed decisions when deciding which window to buy.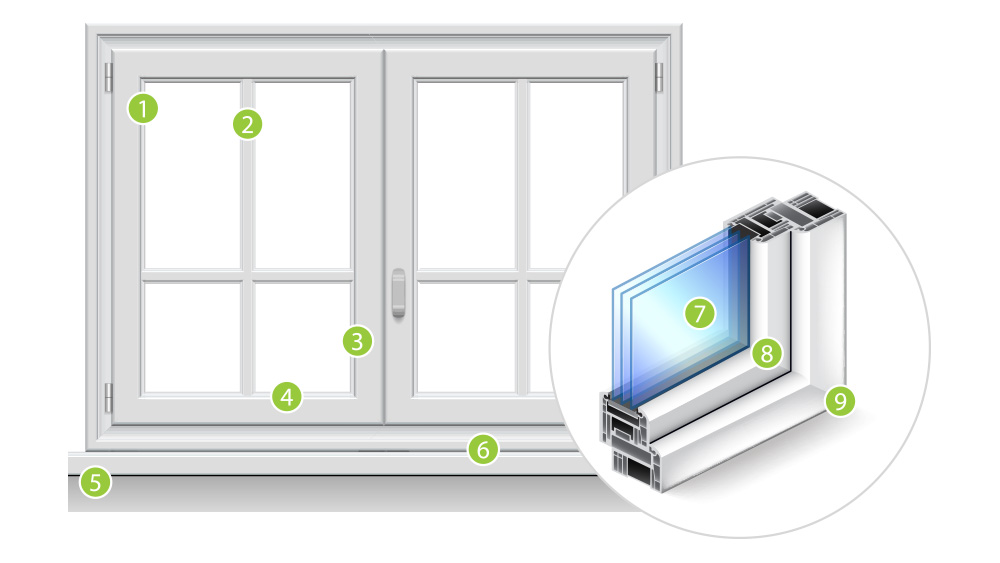 1. Stiles
The anatomy of windows starts with stiles. Stiles are the vertical supports placed within the frame on both sides of the window.
2. Mutins
Mutins are the grids on the window. They sometimes have a functional purpose, which would be to hold the glass in place, or for aesthetics where mutins are snapped into place for a nice look.
3. Jambs
Jambs are the vertical supports that form as the rims of the window. They are the actual sides of the window, unlike stiles.
4. Rails
Rails are the horizontal components within the frame which fit within the stiles. Every window, no matter the style, has a top and bottom rail.
5. Apron
The apron, or skirt, lies in the window frame's interior. It is a trim board placed flat against the wall under the stool.
6. Casing
A side casing can be found on the window's exterior, interior, or both. It is a trim that serves a decorative purpose. It is also known as a molding or exposed framing that covers the small space between the wall and the window's side. A head casing is similar, except that it covers the space between the wall and the top of a window.
7. Glazing
The glazing is simply glass contained within the window's frame. Glazing can come in three different types of thickness: single, double, or triple.
8. Sash
A Sash is the actual window frame that keeps the glass in place. It is composed of two stiles along the side with rails at the top and bottom.
9. Stool
The stool, also known as the sill, is the bottom horizontal portion of the window. It is like the interior shelf part of the window.
10. Operator
Operators vary depending on which window you purchase. They are responsible for the movement of casement and awning windows. Depending on the material of the window, casement operators will be different.
Knowing the complete anatomy of a window will make you better prepared for your next window purchase. It will be easier to compare and contrast windows and their elements. Hopefully, this will help guide you to find the perfect windows! For all of your window needs, Select Home Improvements is here for you. Give us a call at (855) 995-2233 or click here for a free consultation!
Select Home Improvements is the best choice is you are looking for a window replacement contractor. If you have questions about your project please contact Select Home Improvements. We are here to assist you.
Call us at (855) 995-2233.